Part 7.
_________________________________________________________________


After the main painting of the hull was done have I applied a coat of Johnson Klear.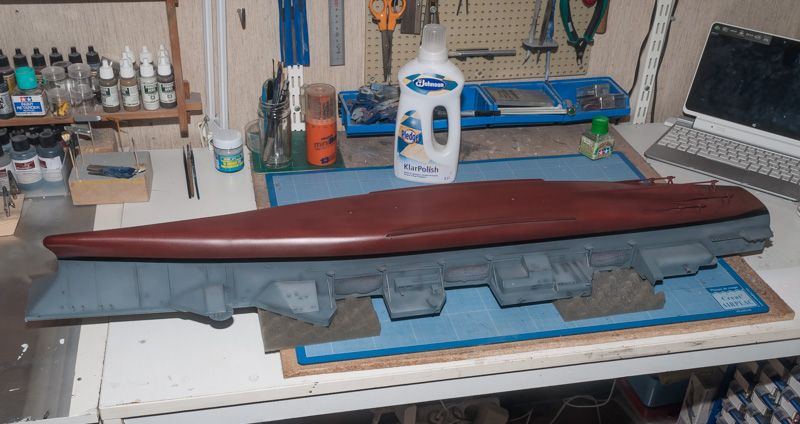 When the gloss coat have got 24 hours to dry properly have I start to apply the decals onto the hull, here is it
the warning line for the Sea Sparrow Launcher,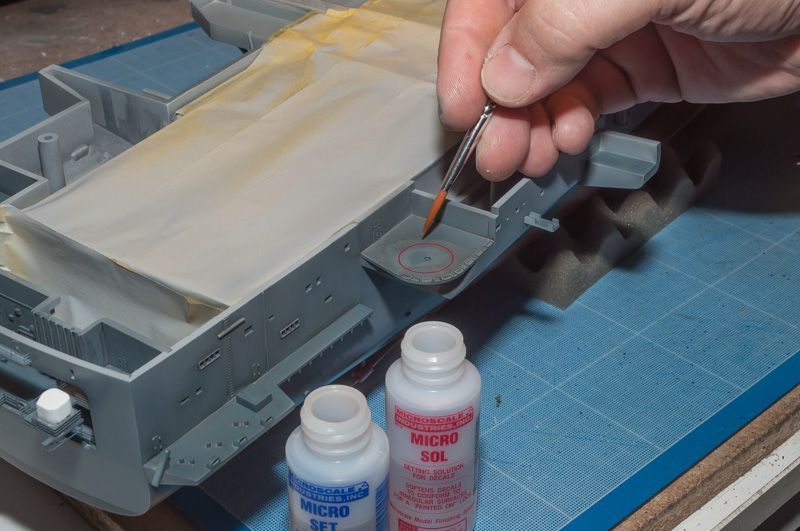 Next to do after the decals was the weathering I have used
Flory models Dark Dirt Wash and just brushed it onto the hull sides.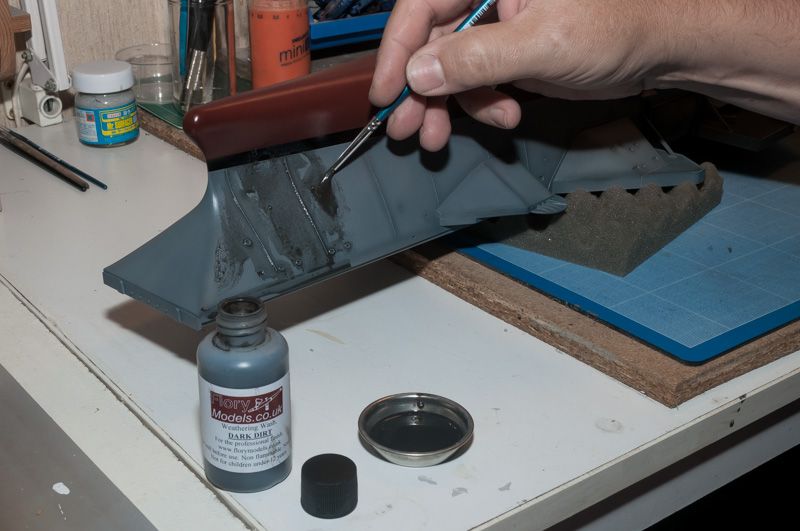 The dry wash was then removed with a cloth of kitchen roll in a vertical movement.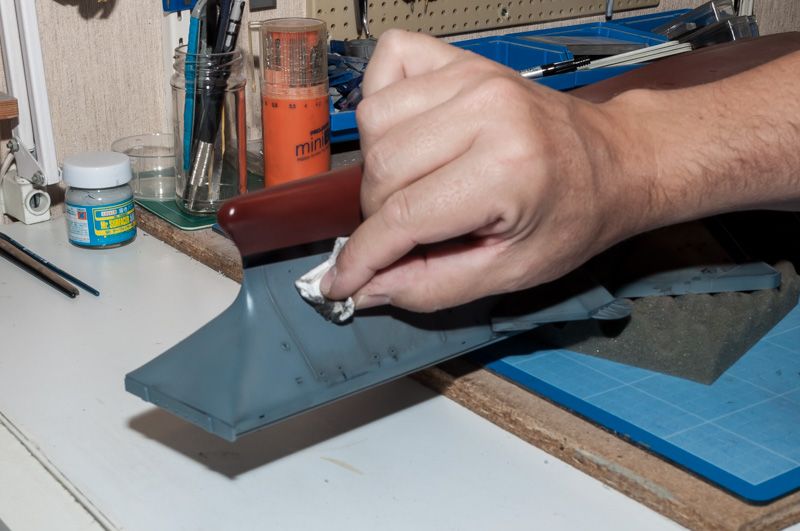 To get a bit more weathering have I applied the Flory Rust Wash around some of the details. When I remove the wash have
I use the technique Phil has showed you in some of his stunning builds, before the wash have dried completely, take a
cotton bud and pull the wash in a downward movement to create a illusion of rust streaks.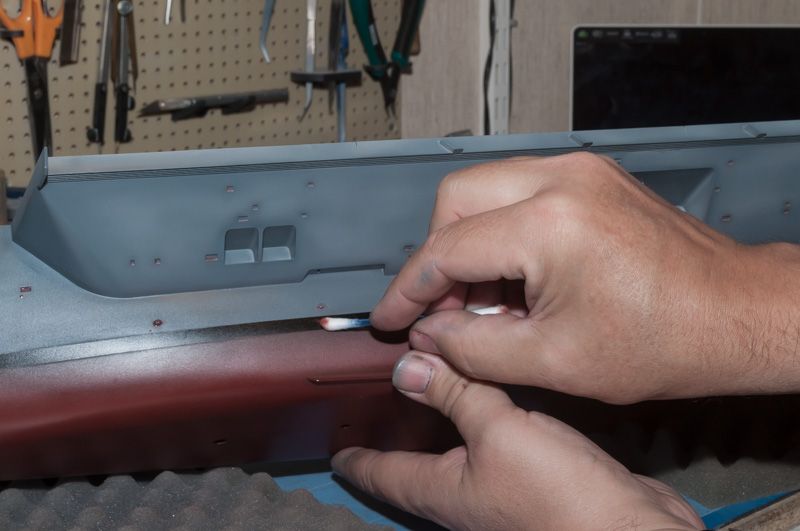 The rust can look a bit light red but it will darken when the flat varnish is applied.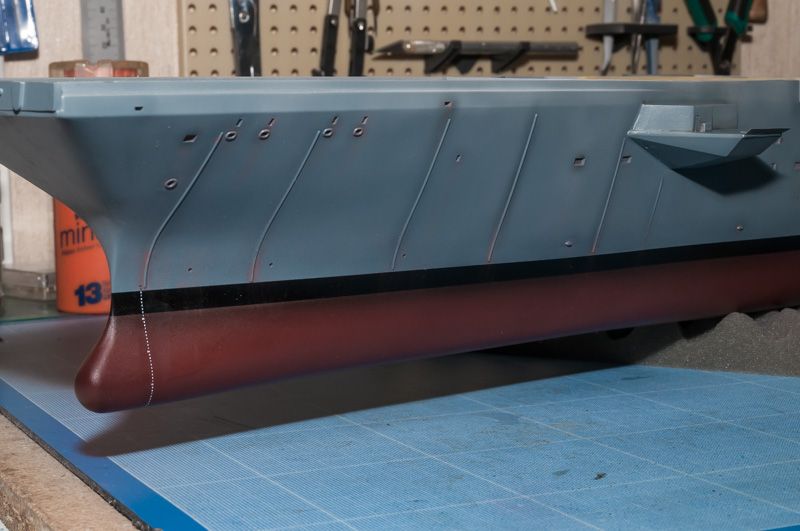 I discover that I have not check my reference properly, in the stern it should be a opening out to the starboard sponson and
also some kind of exhaust pipe. Only to bite the bullet and fix it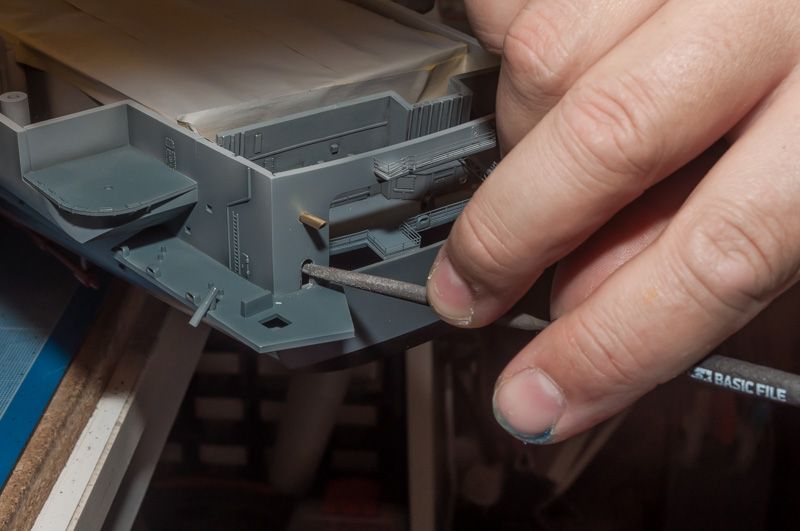 The propellers was painted, first a coat of Alclad Black Gloss Base and next the Polished Brass paint.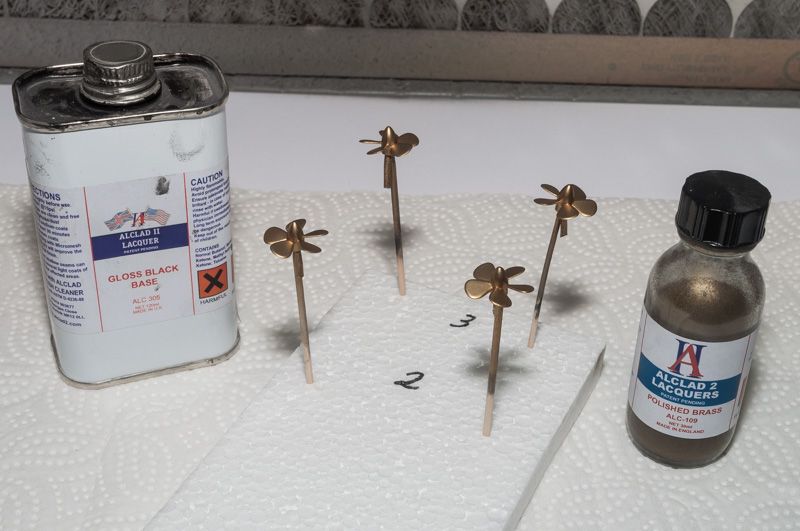 Next I continue the work on the aircraft's for the hangar, I have paint them in different grey shades, maybe not
all the correct shades but I wanted to created some of the used look of navy aircrafts. The painting of all the small details
on the planes was a bit fiddly


And so on with the decals,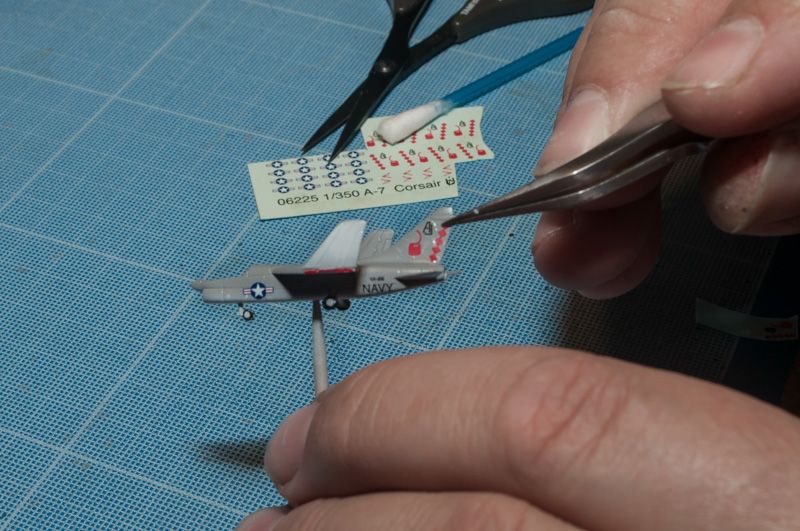 and next, the wash. Flory Models Dark Dirt,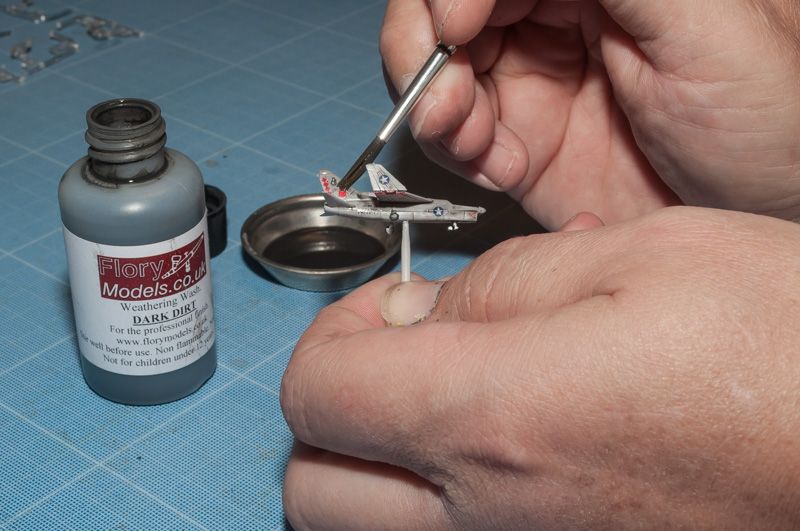 The excess is removed with a cotton bud.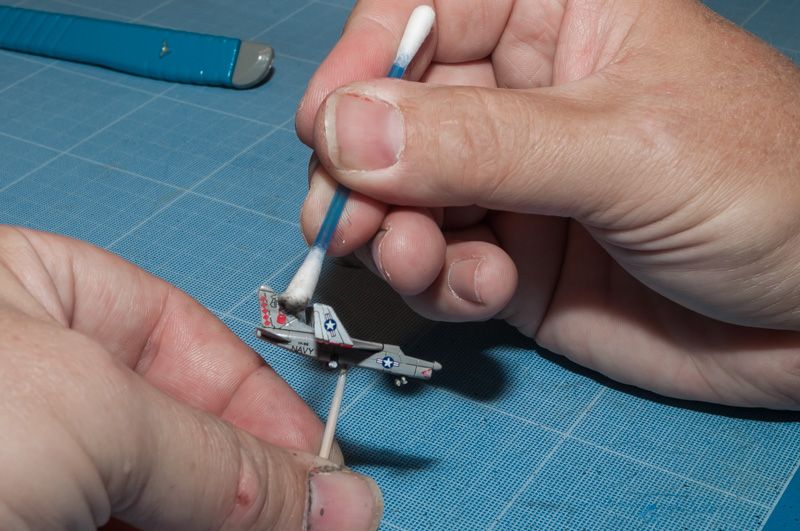 The thought of having to paint the canopy frame was not very appealing so I painted the grey color onto a
strip of Tamiya tape and just cut strips of it in the width I needed.



All the aircraft's has got a coat of Vallejo Flat varnish and after that is the aircraft's for the hangar finished,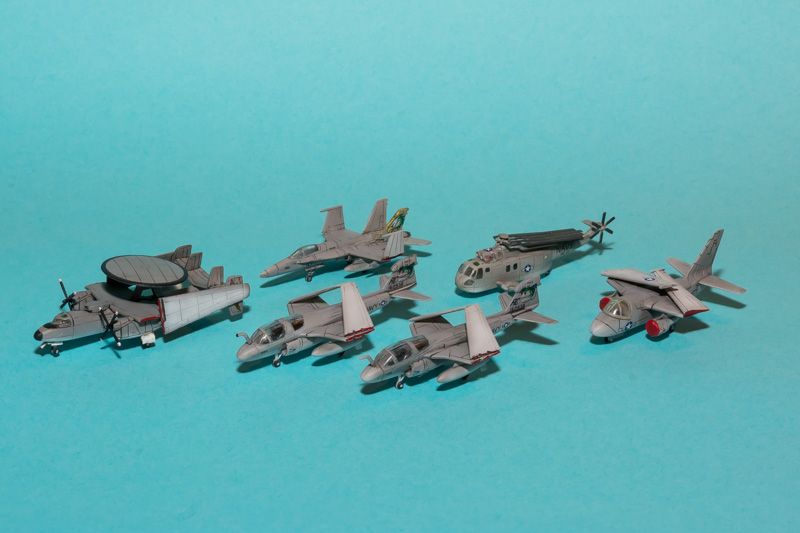 Also the vehicles and the other stuff is done.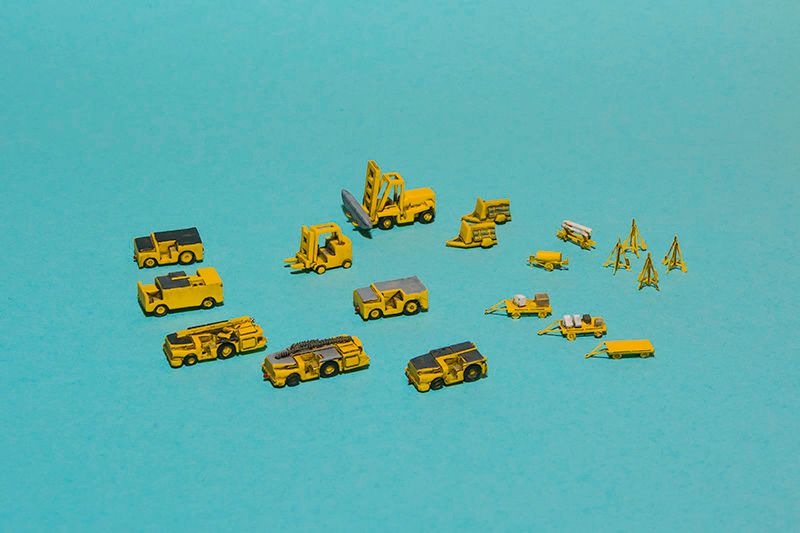 Before I apply the flat varnish on the hull have I done the railings on the platforms, I will varnish them separate and then
glue them in place onto the hull.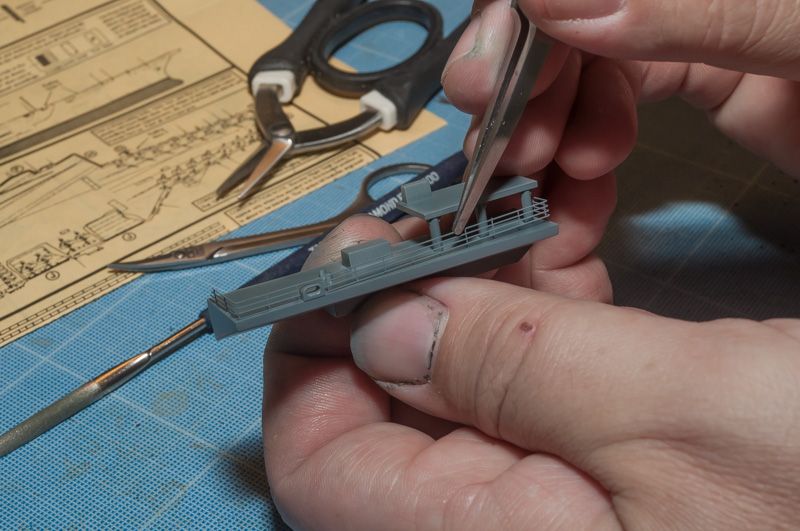 The flat varnish is airbrushed onto the hull.
The final result, I have used Vallejo Acrylic Flat Varnish for this.
The platforms in the side of the hull is glued in place.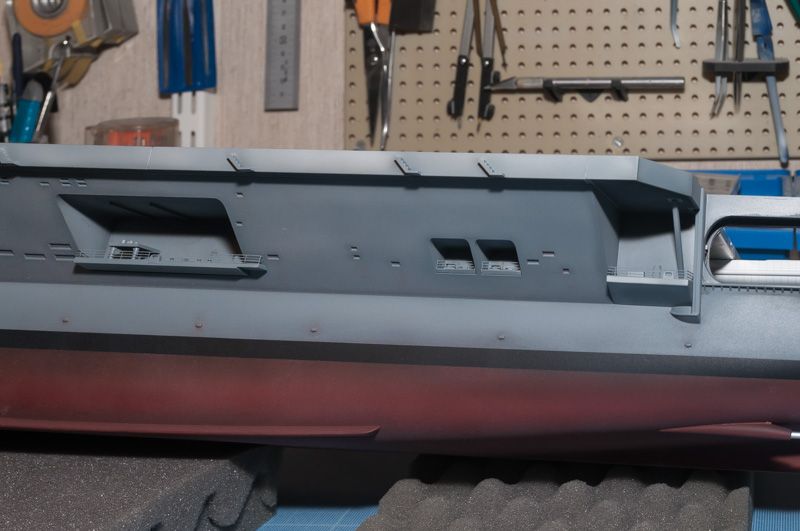 I painted the propeller shafts with Vallejo Model Air 71062 Aluminium and mounted the propellers and rudders.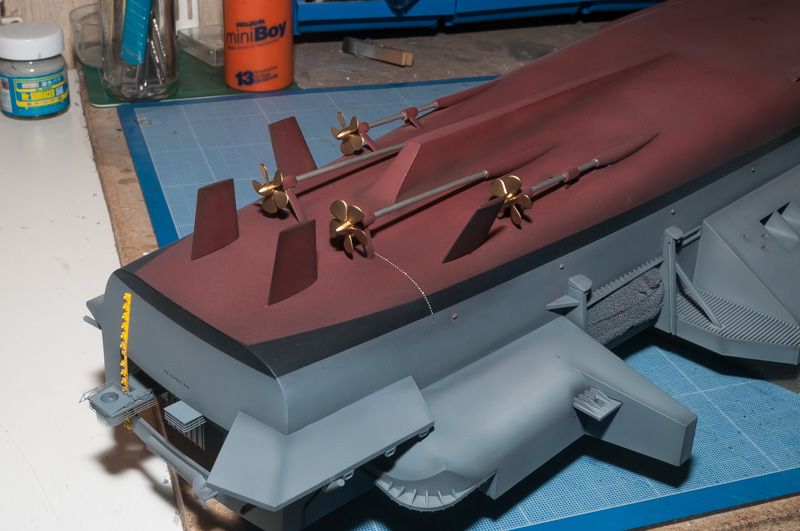 A view of the finished stern.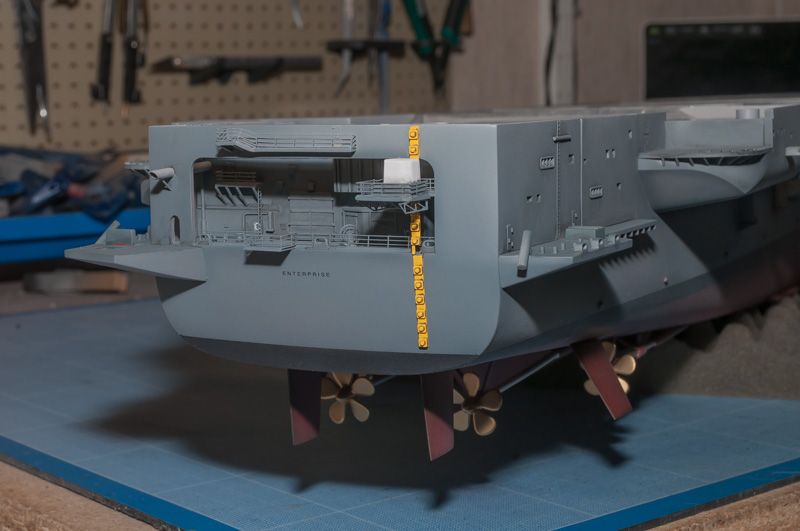 When all the masking over the hangar is removed the Big E looks like this



All for this part, see you soon

Stefan