Ross Armstrong's
Fine Structure Models recently released this P-51D "Desktop Mustang"
Fine Structure Models recently released this P-51D "Desktop Mustang" as a follow on to their highly acclaimed Desktop Zero.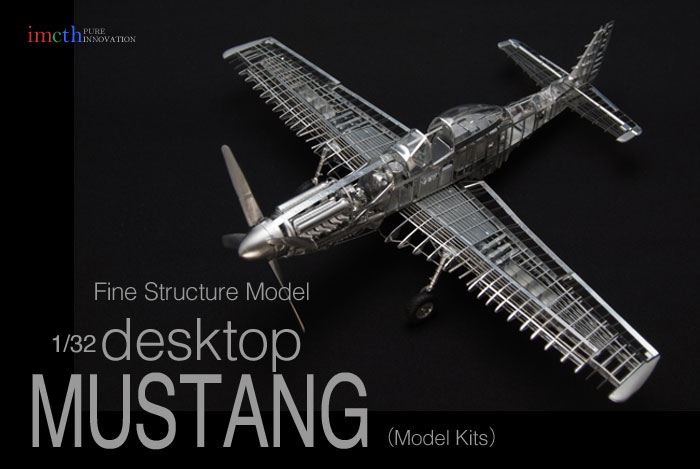 This kit is comprised of photo etch, white metal parts, rubber tires and vacuumform canopy to create the structural assembly of the P-51.

IMCTH combined forces with Model Factory Hiro (well known high end model car kit makers) to produce this highly detailed and exquisitely engineered kit.

Having just finished the Tamiya 1/32 P-51D Mustang, my intention is for these two models to sit side by side as a type of "Before and After" display.





The box is quite heavy and weighs in at about 5 pounds! A rather nondescript black box that doesn't give away all the goodness that is packed inside!



Packing of the all the materials is quite good and there were no damaged parts.





The first small box contained the vacuumform canopy, tires, fuse wire, piano wire, and the metallic film that attaches to the canopy to be the frame.





The next box contained all the white metal parts. These are arranged in lettered bags for easy identification. And each lettered bag actually has several smaller bags with the pieces sorted out into groups by order of assembly.

Very nice touch. It keeps you from rummaging through all the different parts hunting to find just the one you need!





The Instruction "Book" comes next. Actually it is not a book, but rather a folded group of large individual pages. This has proven to be very beneficial since having to keep the thick package of papers on the build table during assembly would be rather cumbersome.





The pages are nicely laid out and provide instructions in both Japanese and English. The first sheet has basic information including several great modeling tips that have proven to be very helpful.





There are also complete parts layouts to help you identify the proper part and where it is located. This one is for all the photo etch parts.






This one is for all the white metal parts.






As you can see from one of the general assembly pages, the instructions are well drawn and use color to help identify exactly which parts are involved.

Another great touch is that it also provides a finished drawing for each step so that you can check and make sure you installed the part correctly.





Not only was there already a correction sheet included (noting minor adjustment needed during wing assembly), but I received an email from the company with an additional correction sheet (a simple part number correction.) WOW! Talk about customer service!





Next in the box were the sheets of Photo Etch. Each wrapped securely in bubble wrap.





This is not the normal thin brass photo etch you find in an Eduard PE set. Unfortunately the battery in my calipers is dead so I can't give you an exact measurement. It is about 3 times thicker than an Eduard set and is even thicker than PE that came in the Tamiya 1/32 Mustang!

I have no worries that this model will be flimsy and not hold its proper shape.





Not only is this PE very thick, but all the major pieces that have structural curves (like the leading edge of the wing and the top of the fuselage) have been properly bent into shape at the factory!

So I don't have to worry about screwing that up!


Here is a closeup of the part that forms 1/2 of the aft fuselage. You can see it is already properly shaped. It is extremely stiff and would take some effort to bend it out of shape.





Here is a closeup of the fuselage framework that goes around the engine. WOW!






More shots of the PE sprues.





At first I thought this model was only for those who are not weak of heart and are certified Masters of the Photo Etch!

But after thoroughly reading all the instructions, looking at the fit and finish of the white metal and photo etch parts, I am convinced that this model could be assembled by just about any modeler.

Sure, I say that now before I have built it!

Hopefully, I won't screw it up…too bad. I know I'll make some mistakes and I'll be sure to share those with you as well.

For those of you with experience with white metal models or figures, I would love to hear from you on how to prep and paint so that it doesn't easily scrape off.

IMCTH mentions leaving everything unpainted for that complete natural metal look. But since I plan to place it next to the Tamiya build, I want to paint the engine and the interior of the cockpit so that they match. I will be leaving all the photo etch frame structure unpainted.


Let's see how this one turns out!
Well … I couldn't wait to get started! So there will be a bit of a wait for future updates



Anyways, to get started, these are the basic tools that will be involved:
Micro tip Fiskar scissors capable of cutting through the thick photo etch.
Assorted flat, round and half round files for cleaning up photo etch and white metal parts.
Hobby knives.
Both medium "gap filling" CA and "flexible" thin CA glues.
CA solvent for cleaning up excess or other CA mistakes!
Assorted drill bits for cleaning out holes in white metal parts.
Gunze glue applicator sticks.
I am also building on top of thick glass to ensure an absolute flat surface for assembly.





Assembly begins with the engine. The first bag of white metal parts contain the major components of the engine block and cylinder heads.




These parts are right out of the bag and require little to no clean up on most parts.

But nearly every part does require that you drill out the pin holes as they are much too shallow. This is pointed out very clearly in the instructions.

Here you can see the gap that occurs during dry fitting when the holes have not been tapped out to the proper depth.





Fortunately the white metal is soft enough that my drill bits can easily remove the excess metal and make the holes the proper depth!






With the holes cleaned out, the parts now fit quite nicely.





Some of the parts are attached to trees or still have a nub attached that needs to be cleaned off.





These are easily nipped off with my sprue cutters.





Then cleaned up with one of the files.





And the part is ready to go!





Here you can see the fit between these metal parts is quite good.





Well, after about 2 hours of cleaning, fitting, drilling, filing, refitting and gluing, next thing I knew, I had the engine all finished!

Having just built the Tamiya P-51, this one went together just as easily.





The instructions call for starting the wing next. Let's hope it goes as smoothly as the engine has!

I may or may not be able to squeeze in another update before leaving for vacation later this week.